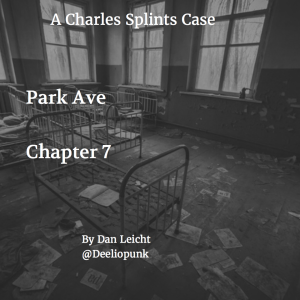 PART 2
Chapter 7:
---
Having to make a quick decision, the undead nurse crawling across the floor behind me, a horde of them growing closer from the left of the hallway, I made a mad dash for the right and tackled my doppelganger to the ground.
"Watch the coat, slick," he shouted after hitting the floor.
"You're not trying to stop me?" I asked.
"Isn't that what you're trying to do to me? Get off," he said as he shoved me to the side. "I'd stay and chat some more but it looks like some of your pals want to spend some quality time. Don't do anything I wouldn't do." He made a getaway down the hallway opposite the oncoming attack. The nurses all huddled around me, cocking their heads like owls as their jaws swung in a trance-like rhythm. I found myself not being able to look away as one nurse grew closer.
***
It happened again. I awoke in another hospital room, this time I wasn't alone. One either side of me was a shapeshifter that had taken to my ugly mug. Both of them were convulsing on their beds, throwing their bodies up and down as if in tremendous pain. I could hear my own voice crying for mercy from both of them, they'd both been chained to their beds. There was something they were craving, something they needed in order to be whole again. Is that what they had broken into my apartment for? What did I have that they needed so badly?
---