Chapter 19:
A Charles Splints Case
By Dan Leicht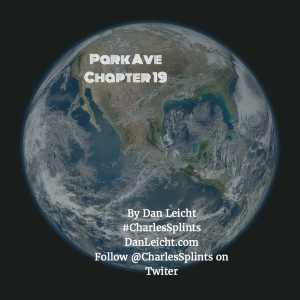 "How'd you know about the ship up in the sky? I haven't mentioned that you to yet," I asked.
"You can't keep your eyes off the damn thing. The camouflage is good, but still flickers every once in a while. I've been staring up at the sky since I was a kid, and the damn thing only flickers when you mix the wrong prescriptions. I've been drinking coffee all day so I know that's not the case. Any ideas on how to get your friends to venture back into space and look for another planet, perhaps one with a vacancy?"
I couldn't help but laugh at his comments. I'd never felt so much happiness before that moment. Splints looked at me and rolled his eyes, but I couldn't help but continue laughing. He pushed the door to the shed open, breaking it from the hinges it was barely holding onto.
I followed as he walked up and down the docks. He'd constantly run his hand down his face and then pinch the bottom of his chin, a nervous tick to help him pass the time. It was obvious he was feeling the weight of this case on his shoulders, and that he was thinking he had to bare it all on his own.
"I can help you know," I said as we turned around to repeat the same path again.
"I know, I know. We need a way to get these guys out of here all at once. Is there some kind of signal you can send that might get your friends to find somewhere else to play? Back in the old days we'd just yell 'cooties' to get everyone running off. I'm not sure your friends will find it as terrifying as we did though." He was masking his words in his humor again, but what he said did have a point. Using something to scare them off could actually work, granted it would have to be something real and not something out of a child's imagination.
"That's a great idea."
"What is?" he replied, not realizing he'd figured out a solution.
"There has to be a central base of operation. If we can find that then we will find a means to contact the ship in the sky, and in turn the ones waiting in orbit."
"Waiting in orbit?"
"Yeah, we've pretty much surrounded the planet up there."
"I knew I should have filled my flask with something stronger."
We rushed back into the streets of Brooksend. We started on East Ave and worked our way through the city. On Park Ave we saw a building with the lights all out, it was dark and every surrounding building was lit up all down the street. As we walked I began to think about the clones and how bent on destroying us they were. They had to kill their host to stay whole, but for me it was enough to consume some of Splints blood and stay by his side. It was as if seeing the world alongside him, through his eyes, was somehow keeping me whole. That was it, there was another way.
---
©Dan Leicht 2016
---
Get caught up on the story with parts 1-3 available on Smashwords and Wattpad!
You can also grab the Charles Splints case "East Ave" for FREE on both platforms as well! Check out this case and see how Splints deals with the supernatural for the first time.