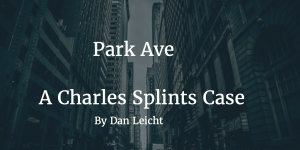 ---
Chapter 1:
The teapot screaming woke me up. I must've fallen asleep at my desk again after another long night patrolling the streets of Brooksend like some sort of vigilante. A new case had brought me out of hiding and to the door of an old woman on Park Ave. Ever since my adventures on East, something had been awakened in this city. The boy's powers were just the beginning, I see that now. His ability to control people and make them his puppets was amusing, but nothing like what I saw the old woman do. She was a shapeshifter and she recognized me the second she peeked through the door at my itchy mug. She looked me up and down, from my uncut greasy hair to my steel toed boots. Elderly hands may have opened the door and welcomed me inside, but it was brute fists attached to the same arms that sent me flying into the bookcase. I heard the impact, felt my back hit the case like a free chiropractor appointment. Luckily it got the kink out just in time to have a brute punch it back to normal. When pain is normal, you're doing something right.
The shapeshifter left me there and ran out the door, leaving a match inches away from a stream of gasoline. What a beautiful parting gift. I managed to get to my feet, having to hold my lower back with my right hand as I stepped towards the match. It was singeing the carpet and I could see the smoke growing closer to the wetness of the fuel. I walked past it and to the door. The apartment going up in flames behind me.
The water was too hot and I had to let it cool while reviewing the night before in my head. Before me was a stack of notes, different locations people of the city have claimed to see shapeshifters. Was there only one? Or an army? I was willing to find out.
---
Find out what happened on East Ave in the Free ebook By Dan Leicht
©Dan Leicht 2016